The W-BAD Store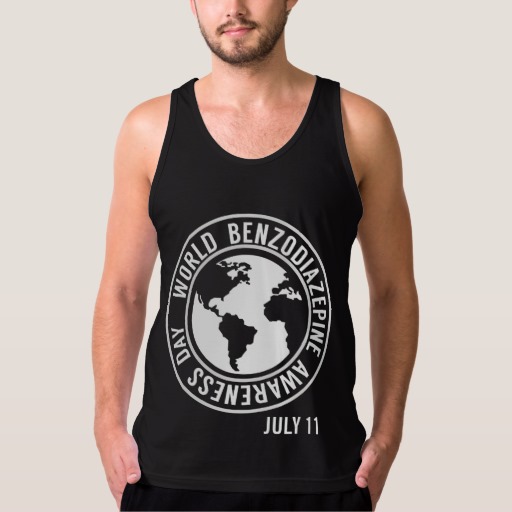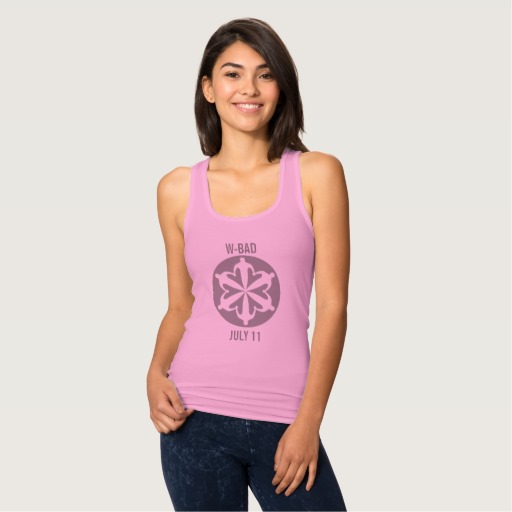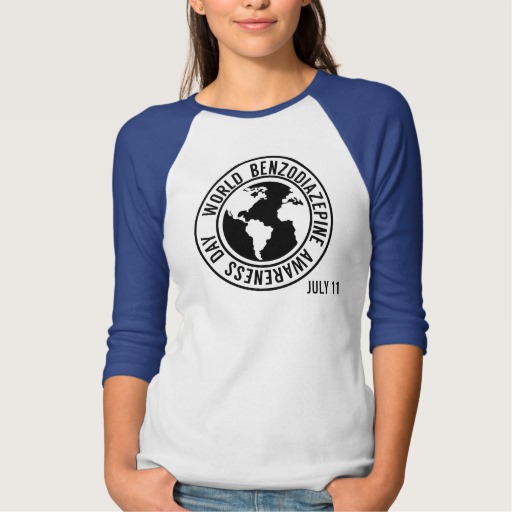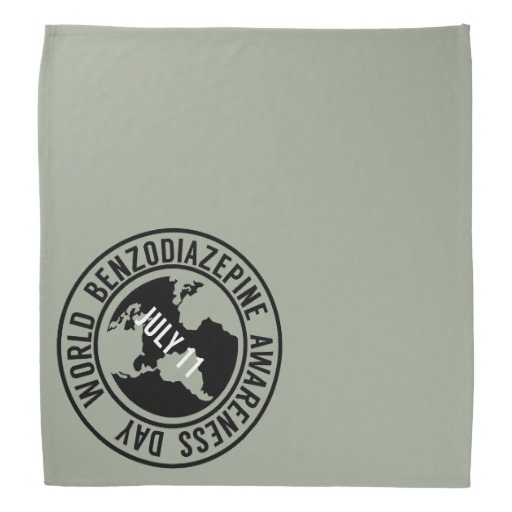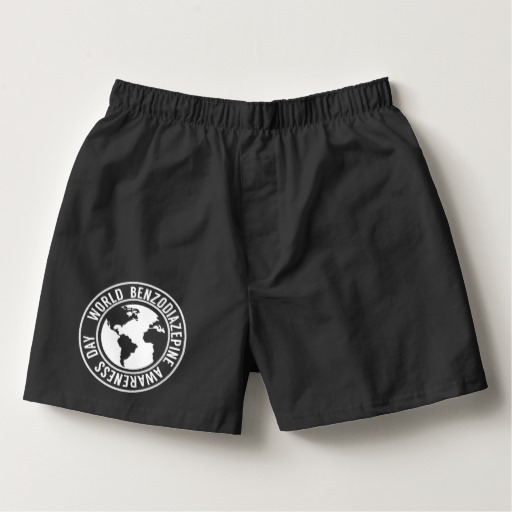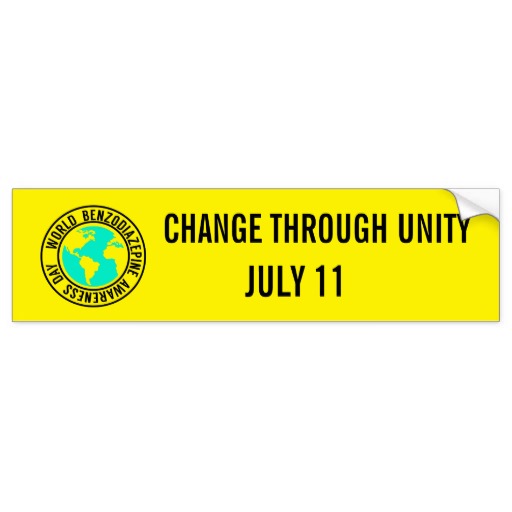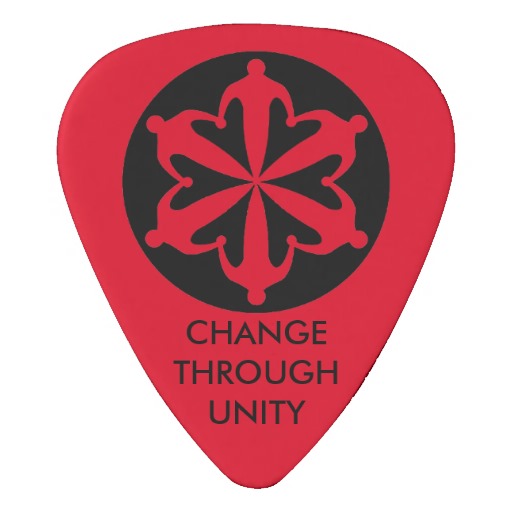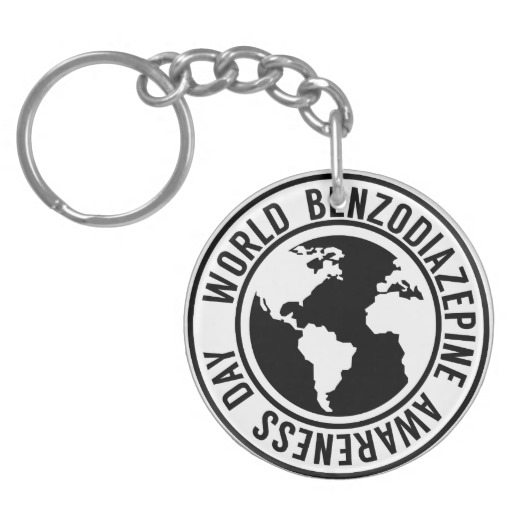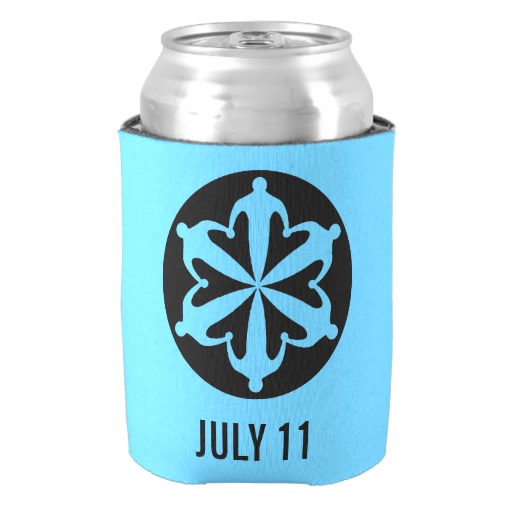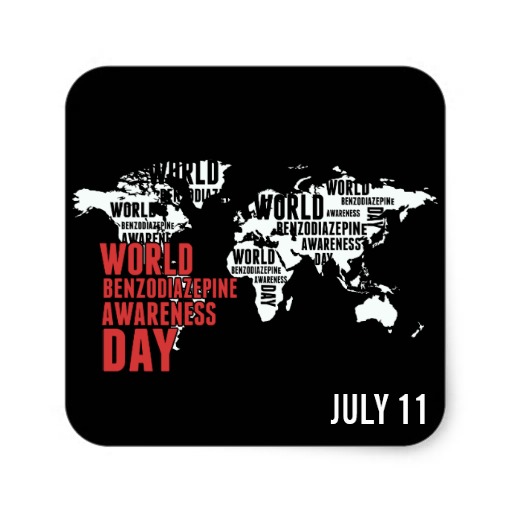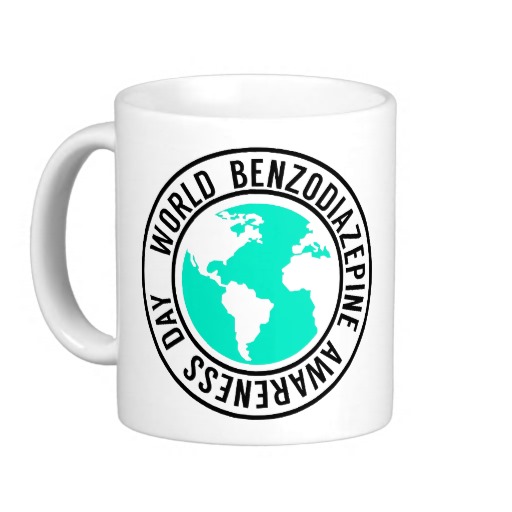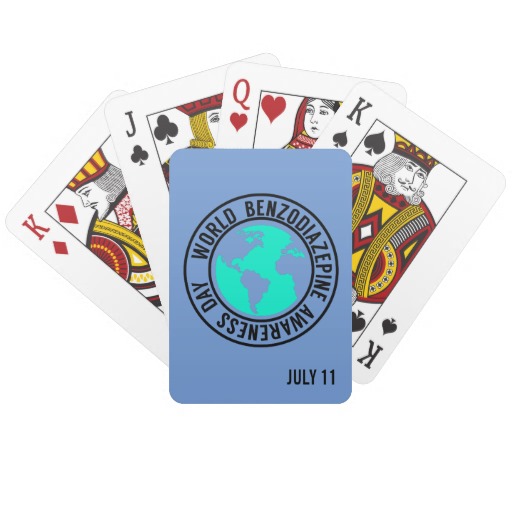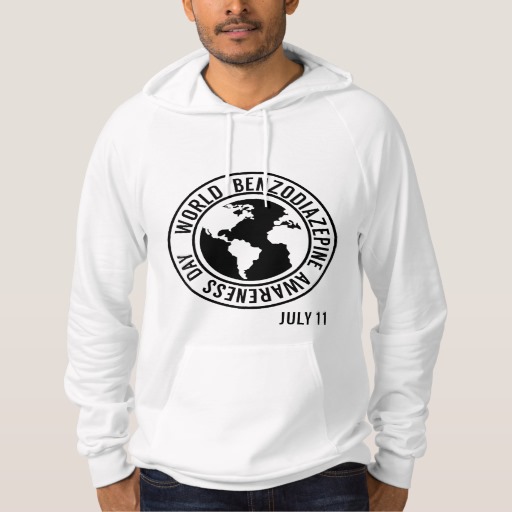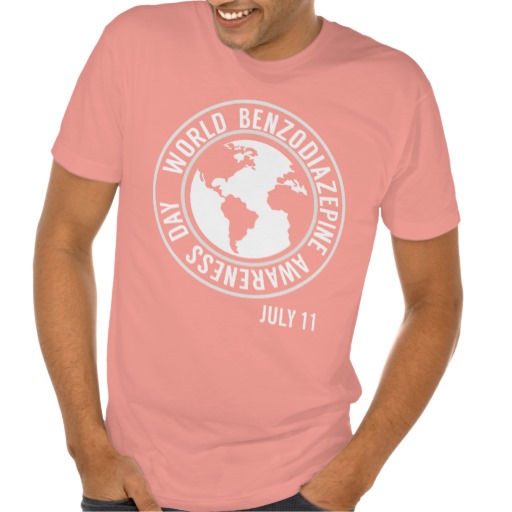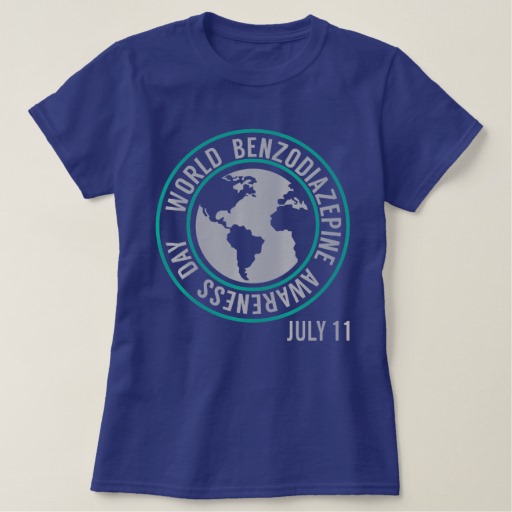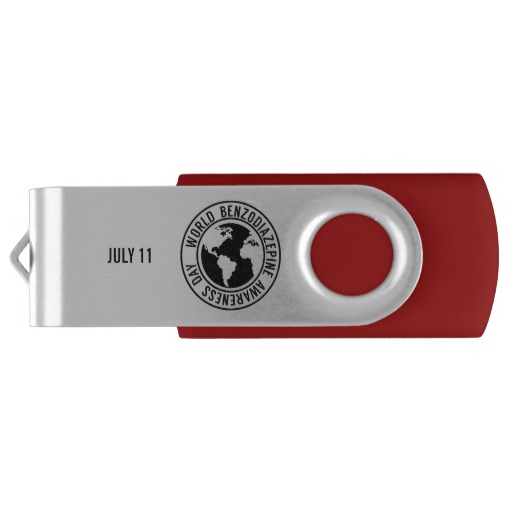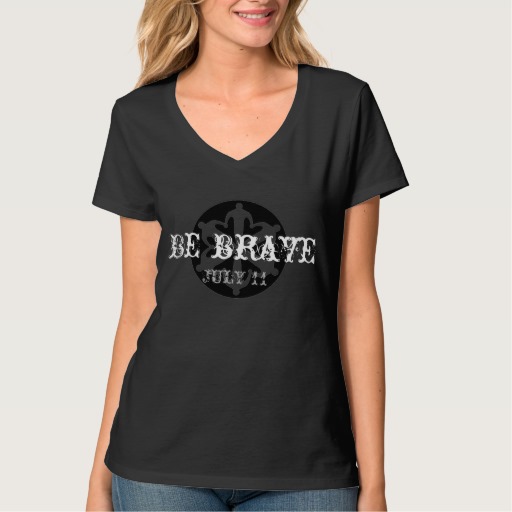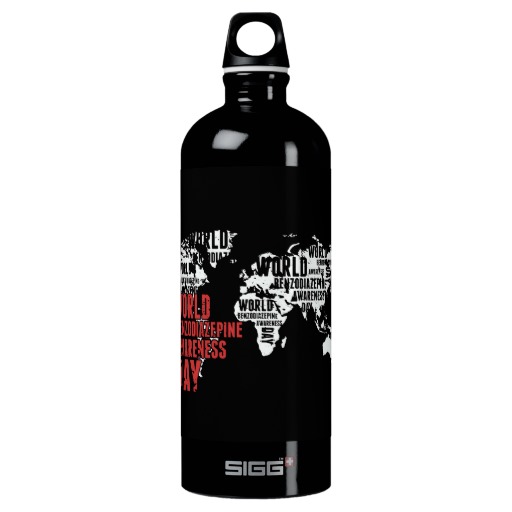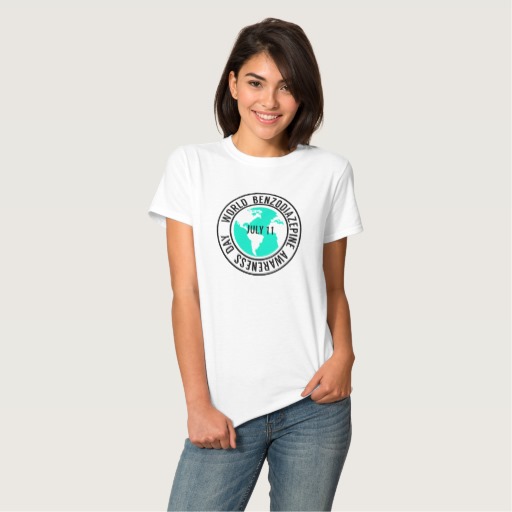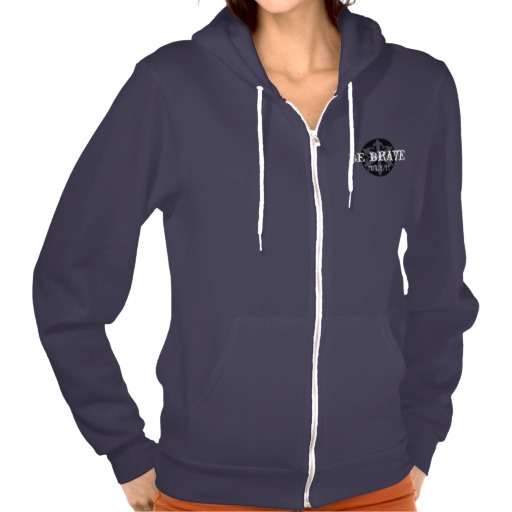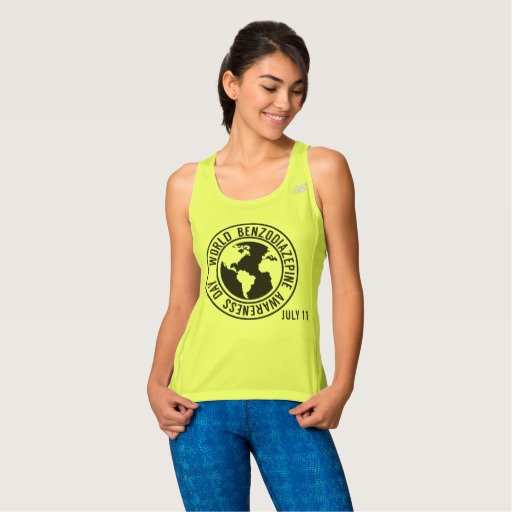 Just below "About the Store" you can either go directly to a local store and start browsing the many items, or read further down this page for more information and useful shopping tips.
About the Store
If you missed out on the chance to get a W-BAD T-shirt during our (now closed) fundraiser, have no fear!
Open all year round, the W-BAD store has something for everyone. With such a wide variety of items to choose from (including everything from postal stamps to stylish outfits), most people's budgets are accommodated for. We can now raise awareness at home, in the street, at the beach, at work – basically, anywhere and everywhere! (And in the case of the W-BAD boxers, who knows... the bedroom?)
Top of Page
Options / Designs - Have fun!
The W-BAD merchandise store is totally interactive and offers a wide range of clothing options. What you see in the front window is just the beginning. Click on any one of the garments for example, and voila, you can then chose from a wide range of different garments (e.g. t-shirts, polos, sweatshirts, tank tops, hoddies etc), styles (e.g. men's/women's, v-necks, long/short sleeved etc) and colours – allowing you to mix and match to suit your individual preferences.
You can also customize the many other items in store including: key chains, tote bags, stamps, water bottles, journals, tattoos and much-much more.
There's some really neat stuff inside so come on in, take a look around, and have some fun.
---
Zazzle also allows you to take the designs that are uploaded in the store and put them on different product styles and colors. So, if you've decided on a specific shirt, for example, pick your favorite logo design that's displayed in the store, and then apply it to that shirt.
Top of Page
Transactions
This is not a fundraiser. However, zazzle (the store hosting platform) requires that a minimum of 5% of the proceeds go back to the store creators. So, exactly 5% (a nominal amount) of the cost of your purchase will go to supporting the W-BAD cause by helping with incurring costs (such as web hosting fees, developing the in-the-works official W-BAD 2017 website, etc).
If at some point the store starts to generate a significant amount of funds that exceeds our current needs, we will re-assess the proceed allocations (i.e. considering donating the excess to a benzo support charity in the UK) and you will be kept informed of these changes.
Top of Page
Orders / Deliveries
If you're concerned about getting your items in time for July 11: Order quickly and please check with zazzle (the store platform) about their shipping times based on your location. Keep in mind the store remains open year-round.
Top of Page
Instructions
Visit the store (see above)
View the items, paying attention to the design on the items (i.e. logo), as the design is constant, but the rest is customizable (garmets, styles, colors)
Click on the item you like
Select a size
Select quantity
You can click "when will I get it?" (below the "add to cart" button), then type in your location and it will give you an estimate of when your item will arrive to you.
On the right side (further down below the "add to cart" button) it provides you with color and style options: pick whichever color and style you'd like to apply the design to. Note: changing the style/color may make the item cheaper or more costly. Different styles may offer different color selections.
After you've selected the size, quantity, color and style you want, click "Add to Cart"
Once the item is in your cart, you can click "keep shopping" to look for more items in the store if you want more than one item.
When your cart has everything in it that you'd like to order, click the shopping cart (top right corner of the store)
On the shopping cart page, it gives you an option to enter a Promo code. Zazzle is always running promos for discounts, so be sure to scroll up to the top of the page (under "zazzle) in the checkout area to see if there are any promo codes that you can enter to get a discount.
Click "Proceed to checkout" or "Checkout with paypal" and follow the payment instructions.
Top of Page
Enquiries
If you have specific questions regarding the store or store items, please contact zazzle costumer support for help. If your question is specific to W-BAD please e-mail at: WorldBenzoAwarenessDay@gmail.com 

Thank you and enjoy!!!!!
Top of Page
Byrne Quote
THE WRITING IS
ON THE WALL

for benzodiazepine use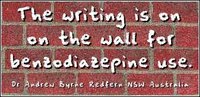 Dr Andrew Byrne
Redfern NSW Australia
Benzodiazepine Dependence, 1997
Marsden Quote
"If any drug over time is going to just rob you of your identity [leading to] long, long term disaster, it has to be benzodiazepines."

Dr John Marsden,
Institute of Psychiatry, London
November 1, 2007
Woolas Quote
"Benzos are responsible for more pain, unhappiness and damage than anything else in our society."

Phil Woolas MP,
Deputy Leader of the House of Commons,
Oldham Chronicle, February 12, 2004
Coleman Quote
"The benzodiazepines are probably the most addictive drugs ever created and the vast army of enthusiastic doctors who prescribed these drugs by the tonne have created the world's largest drug addiction problem."

The Drugs Myth, 1992
Blunkett Quote
BLUNKETT ON BENZOS:
IT'S A NATIONAL SCANDAL!

David Blunkett, British MP
February 24, 1994
Laurance Quote
"If there's a pill, then pharmaceutical companies will find a disease for it."

Jeremy Laurance,
The Independent, April 17, 2002.
Angell Quote
"To rely on the drug companies for unbiased evaluations of their products makes about as much sense as relying on beer companies to teach us about alcoholism."

Marcia Angell MD
(Former) Executive Editor New England Journal of Medicine
Lader Quote
"It is more difficult to withdraw people from benzodiazepines than it is from heroin."

Professor Malcolm H Lader
Institute of Psychiatry London
BBC Radio 4, Face The Facts
March 16, 1999
Ashton Quote
"Withdrawal symptoms can last months or years in 15% of long-term users. In some people, chronic use has resulted in long-term, possibly permanent disability."

Professor C Heather Ashton
DM, FRCP,
Good Housekeeping, 2003
Boeteng Quote
"Clearly, the aim of all involved in this sorry affair is the provision of justice for the victims of tranquillisers."

Justice or Not?

This section focuses on some of the apparent injustices of the Japanese courts in my case. To help highlight these, some parts of this section include cross-referencing between the High Court Verdict and the Addiction Reports which were all based on the official evidence and the DSM-IV-TR diagnostic criteria for dependency.