About this Site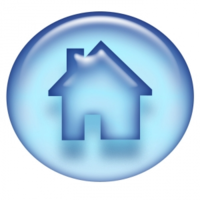 This website has been constructed by me personally for the purpose of raising awareness about doctor induced benzodiazepine drug dependency and litigation problems.
The purpose of this site does not include any form of retribution. Also, for privacy reasons the defendants' names along with certain other names have been omitted from all public documentation contained herein.
There are no other persons / parties involved and it in no way represents any organization or activist type movements.
It is not intended as medical or legal advice – please see Disclaimer.
The Japan Times
Most surprising of all, the high court relied on the packaging produced by the pharmaceutical company to determine the dosage at which benzodiazepines could be deemed addictive.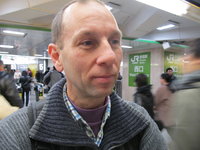 "I don't feel like I lost, I feel like I won and the court failed," he says. "It feels like they were protecting the doctors and failed to protect society." "What I want to do is use my experience and the material generated through my case to provide a resource to others who are dependent or may become dependent."
Byrne Quote
THE WRITING IS
ON THE WALL

for benzodiazepine use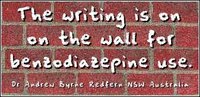 Dr Andrew Byrne
Redfern NSW Australia
Benzodiazepine Dependence, 1997
Marsden Quote
"If any drug over time is going to just rob you of your identity [leading to] long, long term disaster, it has to be benzodiazepines."

Dr John Marsden,
Institute of Psychiatry, London
November 1, 2007
Woolas Quote
"Benzos are responsible for more pain, unhappiness and damage than anything else in our society."

Phil Woolas MP,
Deputy Leader of the House of Commons,
Oldham Chronicle, February 12, 2004
Coleman Quote
"The benzodiazepines are probably the most addictive drugs ever created and the vast army of enthusiastic doctors who prescribed these drugs by the tonne have created the world's largest drug addiction problem."

The Drugs Myth, 1992
Blunkett Quote
BLUNKETT ON BENZOS:
IT'S A NATIONAL SCANDAL!

David Blunkett, British MP
February 24, 1994
Laurance Quote
"If there's a pill, then pharmaceutical companies will find a disease for it."

Jeremy Laurance,
The Independent, April 17, 2002.
Angell Quote
"To rely on the drug companies for unbiased evaluations of their products makes about as much sense as relying on beer companies to teach us about alcoholism."

Marcia Angell MD
(Former) Executive Editor New England Journal of Medicine
Lader Quote
"It is more difficult to withdraw people from benzodiazepines than it is from heroin."

Professor Malcolm H Lader
Institute of Psychiatry London
BBC Radio 4, Face The Facts
March 16, 1999
Ashton Quote
"Withdrawal symptoms can last months or years in 15% of long-term users. In some people, chronic use has resulted in long-term, possibly permanent disability."

Professor C Heather Ashton
DM, FRCP,
Good Housekeeping, 2003
Stevie Nicks Quote
"Klonopin (Clonazepam) is a horrible, dangerous drug."

Boeteng Quote
"Clearly, the aim of all involved in this sorry affair is the provision of justice for the victims of tranquillisers."

Justice or Not?

This section focuses on some of the apparent injustices of the Japanese courts in my case. To help highlight these, some parts of this section include cross-referencing between the High Court Verdict and the Addiction Reports which were all based on the official evidence and the DSM-IV-TR diagnostic criteria for dependency.
Loss & Damages
The amount of actual loss and damages in my case can be seen in the Official Loss and Damage Forms which are registered with the courts.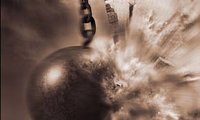 My Official Court Statement 2 may help give an idea of the nature of some of these damages.
Fair?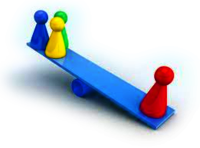 Our key witness was twice denied the opportunity to testify – once by the Tokyo District Court and once by the Tokyo High Court.
The Tokyo District Court judge raised an issue in the defense's favour only after proceedings had ended totally denying us any opportunity for rebuttal.
The Tokyo High Court judge chose to use the package inserts from the drug companies to determine the amounts at which benzodiazepines could be deemed addictive, completely ignoring the extensive evidence (literature, expert opinions etc) submitted to the contrary.
The courts made no issue over the prescribing doctor diagnosing me with one thing and treating me with drugs used for something completely different.

More than half the applied DSM-IV-TR diagnostic criteria for dependency were not addressed in the verdict.
The presiding High Court judge was replaced half way through proceedings by a judge who knew absolutely nothing about the case or benzodiazepines before the verdict was delivered.